Saturday morning, March 15, 2014, twelve team members left Easley to go to Sager Brown, the UMCOR headquarters in Baldwin, La.  Jan Jackson was the team leader.  Ron Bentley and Steve Ellison were the bus drivers.  The rest of the team consisted of Pat Shigley, Mary Beth Ellison, Margaret and Jim Ruud , Neil and Alice Vander Linden from First UMC Easley, Carrie Anderson from Robinson Chapel UMC, Liberty and Jan Dzelzitis and Betty Jo Templeton from First UMC Laurens.
We arrived at the Clarion Inn in Gulfport, MS about 5 o'clock.
On March 16, we woke to thunderstorms, torrential rain and tornado warnings. We had a nice, albeit typical, motel breakfast.  God was looking out for us, because the rain almost stopped by the time we loaded the van.
It didn't take us nearly as long to get to Mississippi City UMC as we had thought, so we were there nearly a half hour ahead of time.  We discovered that it was Heritage Sunday.  There were lots of pictures displayed and there was a guest speaker.  There was also dinner on the grounds and we were warmly welcomed and invited to stay for lunch.
This church is an old church which was originally a part of a circuit.  It became a separate church in the 1950's when the current church building was begun.  It was devastated during Katrina, but has been restored.
Lunch was the typical church social covered dish with delicious food and lots of it.  We were somewhat reticent about accepting their invitation because they were not a large church and we were twelve, but Neil said, "Remember the loaves and the fishes" and we thought about how much food is left over when we have a covered dish meal and decided to stay.  I'm so glad we did!  It was delicious and saved us a ho-hum stop for fast food.
We made a brief stop in New Orleans for gas and arrived at Sager Brown about 3:30, the earliest we have ever arrived.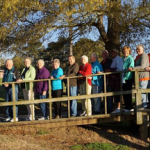 Beth and Steve, Margaret and Jim, and Neil and I have the three rooms off a little hall near the dining room.  The rest of our group is on the same end of the hall on the bayou side.  There is another couple from Illinois and a group of three women from Minnesota on our end of the hall.  On the other end of the hall is a group of college students from Shippensburg University in Pennsylvania and a group from Oklahoma.
Jim and Margaret Rudd, Jan Jackson, Alice and Neil Vander Linden, B. J. Templeton, Jane Dzelzitis, Ron Bentley, Carrie Anderson, Pat Shigley, and Mary Beth and Steve Ellison
Some slept well, some did not, but we were all up for breakfast at 7:30. We had eggs, bacon grits, oatmeal, hash browns, biscuits, gravy, fruit, yogurt on the food line and always juice, coffee, tea, milk, cereal, and assorted breads for toast and a condiment bar.
After breakfast we went to Jubilee Hall for the official orientation. This was when we had safe sanctuary training and signed release forms, etc.  Each of the staff spoke to us about their area and gave us options about job opportunities.  We could work in the community doing house repairs or helping with the schools, we could work on the grounds here or we could work in the depot in the sewing room, making layette kits or preparing supplies for kits. The meeting closed with a request to hold out ones hands.  Then there was a prayer about using these hands to do God's work.
We all chose to work in the depot.  It was fun looking at all the sweaters people have knitted or crocheted.  Ron and Mary Beth packed boxes, Neil, Jan and sometimes Jim kept the rest of us supplied with the components of the kits, unwrapping them and removing tape and cardboard and tags and the rest of us put kits together, except Carrie who was working with a group opening and folding a whole crate of onesies.
We packed a total of two pallets of layette kits.  That is 28 boxes with seven in each box. We finished about three-thirty and we were tired!
March 18, 2014 we were at the Depot by 8:20 and the truck was already there.  We were loading a container.  This container is going to Armenia and is to be loaded with health kits.  We were divided into five groups ranging from 5 to 8 people in a group.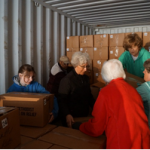 Each group unloaded 2 pallets and then the next group unloaded 2 more and so on until the container was loaded.  We stacked 7 across and 8 high in each row and each two pallets did a row. There were 47 pallets.  A pallet held 28 boxes and a box held 24 kits.  If my math is correct, we loaded 31, 584 health kits!  After the container was loaded we made a circle around it and had a prayer and a blessing for the container, its recipients and us. Then we went back in the Depot and packed more layette kits. By the end of the day we had completed as many as we did yesterday in addition to loading the container!
At 3:30, we closed shop and went to Oaklawn Manor for a tour.  This is the home of Mike Foster, a former governor of Louisiana and a beautiful antebellum mansion.  Today it was decorated for Easter with bunnies and baskets and Mrs. Foster's collection of Faberge eggs.
There is a room devoted to Audubon prints and Governor Foster's collection of carved birds, a collection of birds of Louisiana done by an artist in Houma, Louisiana.  They range from a life-size pelican, the state bird of Louisiana, to a case with all the song birds and another of ducks and water birds.
Off the back terrace is a creamery and the aviary.  The aviary was built for the movie "The Drowning Pool" and left as a gift by the movie crew.  It is full of parakeets and the winter has been so cold that there are heaters installed.
On March 19,  we got to Depot about 8:30 and started working on Layette kits again.  We have the three ladies from Minnesota and several of the college kids helping us today.  We finished 45 boxes again today before we left for lunch.  Tomorrow we will have to make 90 boxes! We are expected to take Wednesday afternoon off to see this beautiful part of Louisiana, so after lunch we went to the Dollar General for odds and ends everybody needed.  Jim and I needed sun glasses.  Daisy got a sun visor and so did I.  When we paid we found out the visors were 1 cent, so we went back and bought all they had!  That was only six cents worth!
We went through Jeanerette, New Iberia, St. Martinsville, and Breaux Bridge before turning to go to the lake.  There were several outfitters on Martin Lake this time.  We went out with the same guy we had been with two years ago. This time was very different because of the time of the year.  There were lots of alligators and many birds.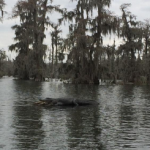 The migratory birds are just beginning to arrive.  There are promontory warblers, butter butts, marsh hens, ospreys, a bald eagle, cormorants, anhingas, blue herons, cranes, lots of ducks, a barred owl and a great horned owl.  We also saw little green frogs, water snakes and a bunny. There is a nature conservancy rookery adjacent to the reserve and we could see hundreds of nesting birds.  Our guide told us that each species has its own level so it looks like stripes.  There was a cloud cover, so we were very comfortable and as soon as we got on the bus the sun came out again.
March 21, everybody was leaving. Oklahoma and Minnesota were gone before breakfast.  Shippensburg left right after breakfast.  We cleaned up breakfast, packed the bus and headed for the Depot.  We were instructed to finish off all the ingredients for the kits on the tables, then clear the tables.  Next week people will do health kits.  We finished all of this by 10:30.  We had time to enjoy the porch and pavilion and the beautiful weather before lunch
Lunch was Jambalaya and a caramel cheesecake for dessert! Then we loaded the bus and headed toward home!
An uneventful but long drive brought us to Saraland, Alabama just north of Mobile.  We had lovely rooms at the Comfort Inn and were able to walk to the Ruby Tuesday for dinner.
We are smelling the barn!  We were on the bus, loaded and ready to roll at 7 am on March 22.  Probably a first for this group. Margaret's rash was worse and Ron and Steve were suffering from allergies.  Lots of snacks got passed around.  We had lunch at a Wendy's in Auburn, Alabama.  After dropping Carrie off at her house in Liberty, we arrived at FUMC in Easley about 5 pm. Thank God for safe travels!